$29.95
AUD
Category: Travel
Byron Trails is the first and only comprehensive guidebook of coastal and hinterland walks accessible from Byron Bay. This simple one-stop guide spans Byron, Tweed, Ballina and Nightcap National Park. The book features an easy-to-use 'Choose your trail' table that allows you to select your walk based on length, difficulty, type of walk and location. Most importantly it lists the cafes closest to each walk for a well-deserved cuppa after! With information about the area as well as tips for staying safe in the bush, this is a complete resource for the novice and the avid hiker.A perfect companion for those who already know and love the area as well as those discovering it for the first time, Byron Trails offers unique insights into the natural treasures that exist in Byron Bay and beyond. ...Show more
$28.50
AUD
$29.99
(4% off)
Category: Travel
Anthony Bourdain saw more of the world than nearly anyone. His travels took him from the hidden pockets of his hometown of New York to a tribal longhouse in Borneo, from cosmopolitan Buenos Aires, Paris, and Shanghai to Tanzania's utter beauty and the stunning desert solitude of Oman's Empty Quarter - a nd many places beyond. In World Travel, a life of experience is collected into an entertaining, practical, fun and frank travel guide that gives readers an introduction to some of his favorite places - in his own words. Featuring essential advice on how to get there, what to eat, where to stay and, in some cases, what to avoid, World Travel provides essential context that will help readers further appreciate the reasons why Bourdain found a place enchanting and memorable. Supplementing Bourdain's words are a handful of essays by friends, colleagues, and family that tell even deeper stories about a place, including sardonic accounts of traveling with Bourdain by his brother, Chris; a guide to Chicago's best cheap eats by legendary music producer Steve Albini, and more. Additionally, each chapter includes sly, witty illustrations by cartoonist Tony Millionaire. For veteran travelers, armchair enthusiasts, and those in between, World Travel offers a chance to experience the world like Anthony Bourdain.   ...Show more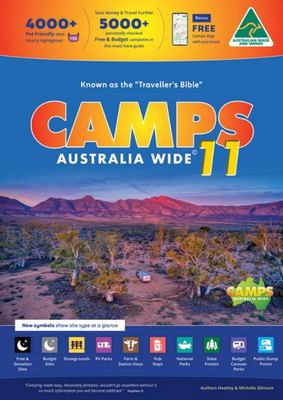 $66.50
AUD
$69.95
(4% off)
Category: Travel
Explore hidden gems in every corner of Australia with Camps 11 (2021)- Australia's most trusted resource for the RV traveller! Now with over 5000 verified sites! Backed by over 25 years of updates, this is the most comprehensive and authenticated guide to Free and Low cost camping. Includes unique outba ck and remote camping sites throughout Australia. Spiral bound for lie-flat reading on the road.   ...Show more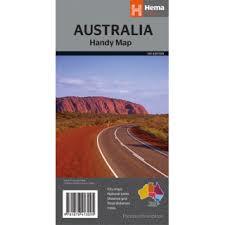 $9.45
AUD
$9.95
(5% off)
Category: Maps
A complete, easy to read map of Australia showing all borders, capital cities, major towns, highways and connecting routes that's smaller and more compact than the Australian Large. The Australian Handy map shows all borders, capital cities, major towns, highways and connecting routes. 
$12.35
AUD
$12.99
(4% off)
Category: Maps
National Map Sheet Map   Australia map with projection-Lamberts conformal conic including index to cities, towns & localities   City maps for: Brisbane, Melbourne & Sydney at a scale of 1: 20 400 Canberra, Darwin, Hobart, Perth at a  scale of 1 : 25 500 & Adelaide at a scale of 1: 30 600   Distance chart with distances between major towns   Maps including time zones, climatic regions & rainfall. ...Show more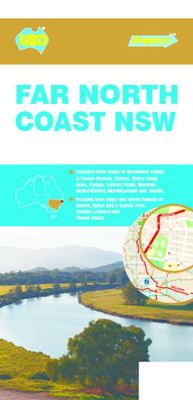 $10.50
AUD
$10.99
(4% off)
Category: Maps | Series: Touring Map Ser.
The latest edition of the Far North Coast NSW has been fully revised and updated and includes: Regional touring mapping covering Tweed Heads in the north, Woolgoolga in the south, Byron Bay in the east and Sandy Hill in the west. Maps and street index of Ballina, Byron Bay, Grafton, Lismore and Tweed Heads city centres and surrounding suburbs. Maps of Brunswick Heads/Ocean Shores, Casino, Evans Head, Iluka, Kyogle, Lennox Head, Maclean, Mullumbimby, Murwillumbah and Yamba. Regional touring attractions and advertisers index. With so much information included in this handy fold out map this is an essential tool for navigating the Far North Coast NSW region for both the tourist and locals alike. ...Show more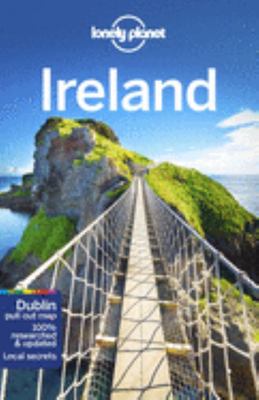 $37.99
AUD
$39.99
(5% off)
Category: Travel | Series: Travel Guide Ser.
Lonely Planet: The world's number one travel guide publisher Lonely Planet's Ireland is your passport to the most relevant, up-to-date advice on what to see and skip, and what hidden discoveries await you. Sample Guinness in Dublin, wander wild Connemara and take in traditional music - all with your t rusted travel companion. Get to the heart of Ireland and begin your journey now Inside Lonely Planet's Ireland: NEW pull-out, passport-size 'Just Landed' card with wi-fi, ATM and transport info - all you need for a smooth journey from airport to hotel Improved planning tools for family travellers - where to go, how to save money, plus fun stuff just for kids What's New feature taps into cultural trends and helps you find fresh ideas and cool new areas our writers have uncovered NEW Accommodation feature gathers all the information you need to plan your accommodation NEW Where to Stay in Dublin map is your at-a-glance guide to accommodation options in each neighbourhood Colour maps and images throughout Highlights and itineraries help you tailor your trip to your personal needs and interests Insider tips to save time and money and get around like a local, avoiding crowds and trouble spots Cultural insights give you a richer, more rewarding travel experience - history, people, music, landscapes, wildlife, cuisine, politics Covers Dublin, Wicklow, Kildare, Wexford, Waterford, Carlow, Kilkenny, Cork, Kerry, Limerick, Tipperary, Clare, Galway, Mayo, Donegal, Belfast, Armagh, Londonderry, Antrim, Fermanagh, Tyrone, and more The Perfect Choice: Lonely Planet's Ireland is our most comprehensive guide to Ireland, and is perfect for discovering both popular and off-the-beaten-path experiences. About Lonely Planet: Lonely Planet is a leading travel media company and the world's number one travel guidebook brand, providing both inspiring and trustworthy information for every kind of traveller since 1973. 'Lonely Planet guides are, quite simply, like no other.' - New York Times 'Lonely Planet. It's on everyone's bookshelves; it's in every traveler's hands. It's on mobile phones. It's on the Internet. It's everywhere, and it's telling entire generations of people how to travel the world.' - Fairfax Media (Australia) ...Show more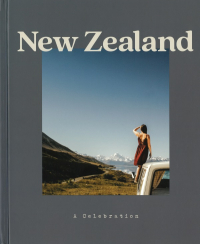 New Zealand - A Celebration
by Honey Pty Ltd (Compiled by, Cover Design by, Editor, Created by, Concept by, Designed by)
$19.99
AUD
Category: Travel
Small but perfectly formed. Remote but intimately connected. Wild, but eminently civilised. Laid-back, but high achieving. Geographically diverse, but with uniquely accessible glaciers, rivers, fiords, waterfalls, lakes, beaches, volcanic peaks,forests and fields. Aotearoa is Mother Nature finely distil led.  Also Available - Australia ...Show more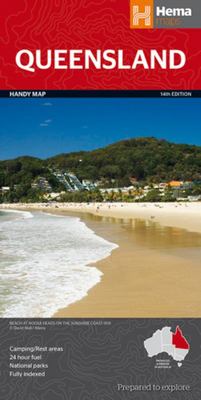 $9.45
AUD
$9.95
(5% off)
Category: Maps | Series: Handy Map Ser.
A fully indexed state map of Queensland at a scale of 1:2,500,000. Marked on the map are national parks, camping areas, caravan parks, rest areas, points of interest and 24-hour fuel accompanied by a distance grid.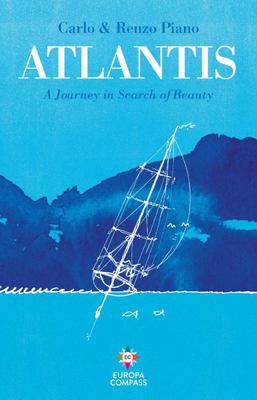 $28.50
AUD
$29.99
(4% off)
Category: Travel
Renowned architect Renzo Piano (the New Whitney Museum, the Pompidou Center, Potsdamer Platz, Cite Internationale, New York Times Building, The Academy Museum of Motion Pictures, etc.) and his son Carlo, a well-regarded journalist, set sail from Genoa one late Summer day to search for Atlantis, the perf ect city, built to harbor a perfect society. Embarking not only on a life-changing journey but also on series of conversations that are humorous, irreverent, erudite, and always entertaining, Renzo and Carlo travel from Genoa in search of the perfect city, along the way reflecting on their own relationship, on fathers and sons, on the idea of travel itself, and perhaps most notably on architecture, space, and the secret life of forms. Piano, subject of The Art of Making Buildings and a man who can not only measure land at a glance but also the sea's infinite geometry, returns to the places where he has created his iconic works, mosaic pieces in the infinite, necessary quest for perfection. With his son he sails across the Pacific, along the banks of the Thames and the Seine, reaching as far as Athens, San Francisco's Golden Gate Park, and Osaka Bay. In search of beauty, Piano finds only imperfection. And so, all that remains is to sail on, in the company of his son. ...Show more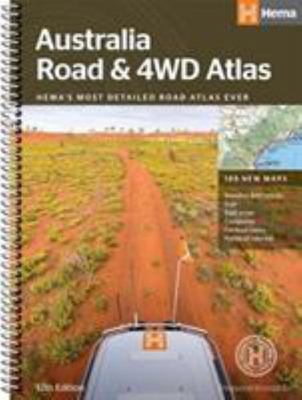 $37.95
AUD
$39.95
(5% off)
Category: Travel
Featuring trusted Hema mapping for all of Australia, the perfect bound Hema Road & 4WD Atlas is the definitive travel guide for tourers and adventurers. Hema atlases feature more information useful to travellers, including 4WD tracks, campsites, caravan parks, rest areas, 24-hour fuel and points of interest. The new edition contains more mapping than ever before, which is enhanced by a striking new cartographic style that¿s incredibly easy to read. Included in this is up-to-date mapping for Australia¿s biggest 4WD destinations: Cape York, Fraser Island, the Top End, the Kimberley, the Pilbara, Central Australia, High Country Victoria and the Flinders Ranges. A handy distance grid, national park guide, list of accredited information centres and a complete index are also included to assist with trip planning and navigation, making it the perfect tool for guiding tourers, campers, road trippers and off-roaders throughout Australia. ...Show more