$14.25
AUD
$14.99
(4% off)
Category: Younger Readers | Series: Awesome Friendly Kid
Scare yourself silly with Rowley Jefferson's Awesome Friendly Spooky Stories by Jeff Kinney, the #1 international bestselling author of Diary of a Wimpy Kid! Grab a flashlight, crawl under the covers, and dive into the twisted, unexpectedly hilarious world of Rowley Jefferson's imagination. You'll meet zombies, vampires, ghosts, and much more in these comically terrifying tales. Rowley's spooky stories might leave you laughing, but beware-you could end up sleeping with the lights on! And don't miss Rowley Jefferson's first two awesome friendly books, the instant #1 bestsellers Diary of an Awesome Friendly Kid- Rowley Jefferson's Journal and Rowley Jefferson's Awesome Friendly Adventure! ...Show more
$14.99
AUD
$15.99
(6% off)
Category: Younger Readers | Series: Skydragon
May 2021 Release  Amber is back! The second book in the high-flying adventure series from Anh Do.   Amber held her arms out. Surround me. Locusts, beetles, bees and all manner of flying insects nestled together tightly. Shapes formed. Horns on her head, claws on her hands and feet. A thick, long tail. She was a dragon! Amber is on the run. What will happen when she and the Firefighter finally come face to face?   ...Show more
$34.99
AUD
$45.00
(22% off)
Category: Younger Readers
A mythical monster, a kingdom in peril, an adventure that will test two children's bravery to the limit. Discover a brilliantly original fairy tale about the power of hope and friendship to triumph against all odds, from one of the world's best storytellers. The kingdom of Cornucopia was once the happie st in the world. It had plenty of gold, a king with the finest moustaches you could possibly imagine, and butchers, bakers and cheesemongers whose exquisite foods made a person dance with delight when they ate them. Everything was perfect – except for the misty Marshlands to the north which, according to legend, were home to the monstrous Ickabog. Anyone sensible knew that the Ickabog was just a myth, to scare children into behaving. But the funny thing about myths is that sometimes they take on a life of their own. Could a myth unseat a beloved king? Could a myth bring a once happy country to its knees? Could a myth thrust two children into an adventure they didn't ask for and never expected? If you're feeling brave, step into the pages of this book to find out… A beautiful hardback edition, perfect for sharing and gift-giving. Brought to life with full-colour illustrations by the young winners of The Ickabog competition.   ...Show more
$14.99
AUD
$15.99
(6% off)
Category: Younger Readers
A MYSTERIOUS DOORWAY! (Sure, it's in a restaurant that serves poop, but that doesn't make it any less mysterious. OK?) Behold! What lies beyond?! An evil centipede? An alternate universe? A few decent explanations? VRRRING! NING! NING! NING! Hey, was that a CHAINSAW?! Let's see if you can read and run a t the same time... GO! It's the BAD GUYS EPISODE 13.   ...Show more
$16.99
AUD
$17.99
(5% off)
Category: Younger Readers
Levi is pretty sick of starring in Dad's stupid TV show, Kid Kablam. Because Levi is the kid who gets KABLAMMED! So far he's been knocked down, blown up, and attacked by wild animals. And Dad has one more scene planned-the most dangerous stunt so far. Can Levi survive this final stunt without seriously stacking it?   ...Show more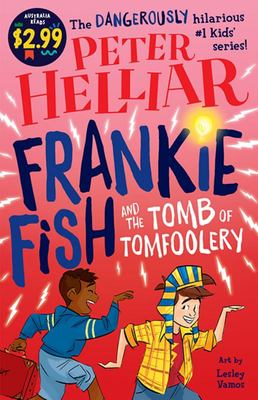 $2.99
AUD
Category: Younger Readers | Series: Frankie Fish Ser.
Frankie Fish is back in a very special mini adventure for Australia Reads! When Frankie and Drew get in an argument about how ancient Egyptians really walked, there's only one way to set the record straight: a quick time-travel adventure! But what happens when Frankie and Drew's precious Sonic Suitcase ends up buried inside a booby-trap-ridden pyramid? There's only one way to get it back - by going inside and hoping they can make it out again ... It's a DANGEROUSLY EXCITING special adventure to celebrate Australia Reads, from favourite comedian and beloved children's author Peter Helliar!   ...Show more
$2.99
AUD
Category: Younger Readers
The annual Pharos Trainee Spy Games competition is being held at Alexandria and Kensy and Max can't wait to participate - and win! The challenges include an obstacle course, driving races, extreme parkour, coding and the big one - a treasure hunt, full of danger and intrigue. The prizes for the games ar e legendary, and with only one champion, the twins are forced to go head to head. When the stakes are raised with news of a saboteur in their midst, Kensy and Max must put all their spy skills to the test. Who is the double agent? And which of the trainee spies has what it takes to emerge victorious? A special Kensy and Max story for Australia Reads. ...Show more
$14.25
AUD
$14.99
(4% off)
Category: Younger Readers | Series: The Treehouse
Andy and Terry have added 13 new levels to their treehouse and now it's even more out of this world than before! There's a soap bubble blaster, a GRABINATOR (it can grab anything from anywhere at any time), a time-wasting level, a toilet paper factory (because you can never have too much toilet paper), a room full of mechanical grandparents, a super long legs level, an extraterrestrial observation centre and the best bookshop-in-a-treehouse-in-a-tree-in-a-forest-in-a-book in the whole world! Well, what are you waiting for? Come on up! ...Show more
$15.99
AUD
$16.99
(5% off)
Category: Younger Readers | Series: Wednesday Weeks Ser.
In a world of magic, can science save the day? Wednesday Weeks never wanted to be a sorcerer's apprentice. She'd rather study science than magic. But when her cloak-wearing, staff-wielding grandpa is captured by a power-hungry goblin king, Wednesday must find a way to embrace her magical heritage and re scue him from the dreaded Tower of Shadows. Luckily, she's not alone. Her best friend Alfie is a prime-number fan and robotics expert who's all-in on Wednesday's epic plan involving parallel universes, swords of power, and a wise-cracking talking skull. But it's going to take more than science, magic, and the world's cutest robot to take down this bad guy. Because the goblin king is playing for the ultimate prize - and Wednesday and Alfie just walked into his trap...   ...Show more
$14.99
AUD
$15.99
(6% off)
Category: Younger Readers | Series: Ninja Kid
Grandma has invented the COOLEST thing evera GLOVE that can bring toys to life! But when the glove is stolen, Nelson and Kenny have to find a way to get it back... before a CRAZY TOY ARMY takes over the WHOLE TOWN!  
$14.25
AUD
$14.99
(4% off)
Category: Younger Readers
A fun and exciting story of footy, family, friends and fair play from one of Australia's favourite rugby league players.Twelve-year-old Teddy is woken by his dad in the middle of the night. A freak storm is raging, and there's an emergency at the rugby league fields. They have become a mud-pit, and the Meerkats Rugby League Club is no longer. If Teddy wants to keep playing rugby league, he will need to join his arch rivals - the Camden Rams. Based on James's own footy-playing childhood, Hat-Trick Teddy encourages kids to follow their dreams regardless of the obstacles in their way.James is a hugely popular NRL superstar and a fantastic role model for boys and girls. He completed his PE Teacher degree in 2016, and loves to mentor kids whenever he can.Perfect for fans of David Warner's The Kaboom Kid!, Tim Cahill's Tiny Timmy, Anh Do's Weirdo series and the Treehouse series ...Show more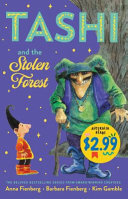 $2.99
AUD
Category: Younger Readers
In this Australia Reads exclusive story, can Tashi use Much-to-Learn's spell to outsmart the Wicked Baron and stop the old forest from disappearing?